The Glasgow Film Festival is back for its 14th year, bringing an exceptional programme of documentaries, fiction films, events, talks and industry events to Glasgow from the 20th February – 3rd March.
With an overwhelming array of fantastic films to choose from we have done the hard work for you and selected our top picks from the festival – all with a Take One Action focus towards international cinema that celebrates the people changing the world. So… what are you waiting for? Dip right in.
Click on each film's image to watch its trailer – links below the synopsis will re-direct to the ticket booking page.
Sun 24 Feb | 15:30 | Cineworld
Thurs 28 Feb | 16:15 | GFT
The late Ryszard Kapuściński's memoir of his role in Angola's 1975 fight for independence is brought to the screen in a striking docu-drama hybrid, matching live-action with animation. The end of Portuguese colonial rule in Angola held out the possibility of lasting change for the better. The country's rich natural resources made it a prize for outside forces. The subsequent conflict and Kapuściński's involvement is told with an immediacy that recalls Waltz with Bashir. It is the heartfelt memories from survivors of the period and vivid news reports that really hit home.
Thurs 28 Feb | 18:00 | CCA
Fri 1 March | 14:00 | CCA
The LGBTQ+ movement in the UK has fought bruising battles for equality. Are You Proud? brings together rare archive footage and interviews from across a spectrum of campaigners to celebrate the progress that has been achieved. Gay Pride, the Gay Liberation Front and Stonewall are among the organisations recognised in a film that doesn't just look back, but asks tough questions about the future. 50 years after the Stonewall riots in America, this is a timely moment to take stock and question how much attitudes have changed and fundamental rights have been secured.
Director Ashley Joiner and producer Dan Cleland will attend the screening on Thu 28 Feb.
Fri 22 Feb | 20:45 | GFT
Sat 23 Feb | 13:45 | GFT
The Feeling of Being Watched is an incredibly personal and frightening account of the one of the largest counterterrorism investigations ever conducted in the United States pre-9/11, code-named 'Operation Vulgar Betrayal'. In the Arab-American neighbourhood where director Assia Boundaoui grew up, her family and neighbours all believed they had been under surveillance for years. Now working as a journalist, Boundaoui takes a startling look at the struggles to navigate Kafkaesque bureaucratic processes, confronting long hidden truths about the FBI's relationship to her community, and revealing the enduring impact that a lifetime of surveillance has had on everyone involved.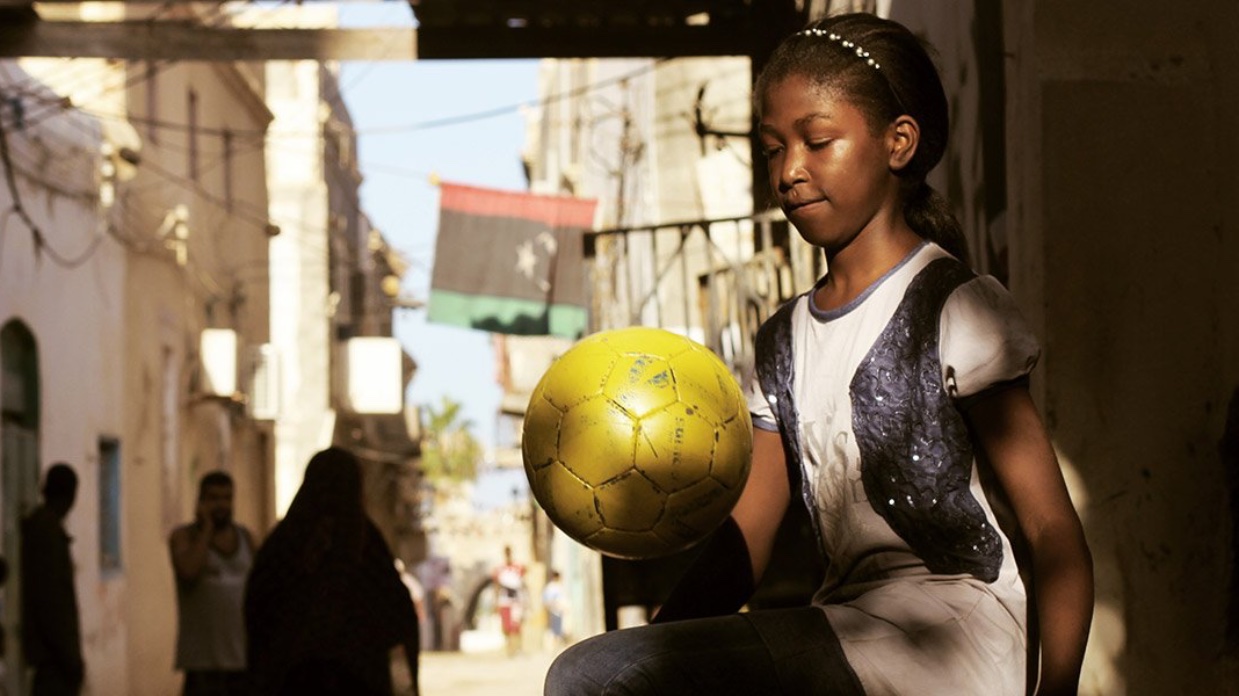 Wed 27 Feb | 18:00 | CCA
Thurs 28 Feb | 13:15 | CCA
Football isn't a matter of life and death, it's much more important than that in Freedom Fields. Filmed over five years, Naziha Arebi's documentary follows three friends and their dream of being allowed to play football in Libya. When the promise of the Arab Spring starts to fade, the women face public opposition and threats of violence. Playing football is an act of defiance and a test of the freedoms they hope might one day become a reality. An intimate, nuanced insight into a changing society revealed through the actions and aspirations of three resilient friends.
Can't make the GFF screening? Join us on International Women's Day, 8th March,  for an exclusive screening at Filmhouse, Edinburgh!
Girl
(Lukas Dhont)
Sun 24 Feb | 20:15 | GFT
Mon 25 Feb | 10:45 | GFT
Victor Polster makes an unforgettable screen debut as a teenager determined to make their dreams a reality. 15-year-old Lara (Polster) was born a boy and now longs for the day when she can have gender reassignment surgery. Her ambition is to become a ballet dancer. The daunting physical demands of the training combined with the changes in her life create a situation of almost unbearable daily pressures. Lukas Dhont's beautifully realised debut feature sensitively captures all the complex feelings of this deeply moving coming-of-age story.
Director Lukas Dhont attends the screening on Sun 24 Feb.
(MARK GRENTELL)
Sun 24 Feb | 17:30 | GFT
Mon 25 Feb | 13:30 | GFT
It's time to cheer the underdog in this rambunctious, heartwarming David and Goliath comedy from Australia. The screen adaptation of Damian Callinan's stage hit finds former football star Troy Carrington (Callinan) trying to revive the fortunes of his football club in the tiny township of Bodgy Creek. Times are hard, jobs are scarce and civic pride is all they have left. Troy decides to seek out the undiscovered talent at the local refugee support centre. His fight against ingrained prejudices and bitter opposition fuels a winning tale of rebirth, romance and redemption.
Director Mark Grentell and producer Anne Robinson will attend the screening on Sun 24 Feb.
(Heike Bachelier, Andy Heathcote)
Sun 24 Feb | 18:00 | CCA
Mon 25 Feb | 13:00 | CCA
Fishing has been a vital part of Scottish life for centuries but the tensions between traditional ways and modern day environmentalists are acute. Of Fish and Foe follows brothers Kevin and John Pullar who are struggling to sustain the family business of net fishing for wild Atlantic salmon. Environmentalists are watching their every move, thwarting their attempts to make a living and ruthlessly protecting the seal population. The two groups are worlds apart and frustrations frequently boil over in a thought-provoking film that constantly shifts the balance of your sympathies.
(Soheil Beiraghi)
Mon 25 Feb | 20:45 | CCA
Tues 26 Feb | 13:15 | CCA
Afrooz (Baran Kasari) has given her life to football. Now, she is about to captain Iran's national futsal team as they head to the final of the Asian Nations Cup in Malaysia. That's when her estranged husband Yasser (Amir Jadidi) exercises his legal right and refuses her permission to leave the country. Thus begins a battle in which the fiercely determined Afrooz uses any means necessary to fight the everyday injustices faced by women in Iran. A thought-provoking, high stakes drama that grabs at your emotions and makes essential viewing in the age of #MeToo.
(Simon Sharkey, Benjamin Zecher)
Sun 24 Feb | 15:45 | CCA
Over four years, director Simon Sharkey worked with a group of young boys in a ghetto in Kingston, Jamaica, teaching them parkour and physical theatre. His plan was to help them find and share their story with their local community, but what transpired in the process was much more. Watch how the "Hero Journey" narrative guided the troupe through adversity, to triumph, in an international production of their own show. A truly heartwarming documentary that showcases the authentic voice of Caribbean youth, who struggle with the legacy of colonialism, poverty and lack of opportunity.
(Benedikt Erlingsson)
Sat 23 Feb | 18:05 | GFT
Tues 26 Feb | 15:30 | GFT
Of Horses and Men director Benedikt Erlingsson makes a welcome return with a playful, wonderfully quirky charmer that addresses urgent issues with the lightest of touches. Halla (Halldóra Geirhardsdóttir) is a mildmannered choirmaster secretly waging war on the heavy industry that is ruining the rugged landscapes of her beloved Iceland. Her acts of sabotage grow increasingly extreme. Then she learns that she has been approved to adopt a child. Is it possible to save the planet and give a secure life to the daughter she has yet to meet?
All film copy taken from the Glasgow Film Festival website, with thanks.